Update 2015/01/08: If you attended my NCSS class on making a bot for this game, you can download the sushi.zip file which has all the code in bot5.py. Feel free to send questions to me at [email protected] or tweet at me: @AlSweigart
This tutorial teaches how to write a bot that can automatically play the Flash game Sushi Go Round. The concepts in this tutorial can be applied to make bots that play other games as well. It's inspired by the How to Build a Python Bot That Can Play Web Games by Chris Kiehl. The primary improvement of this tutorial is it uses the cross-platform PyAutoGUI module to control the mouse and take screenshots. It is documented on its ReadTheDocs page.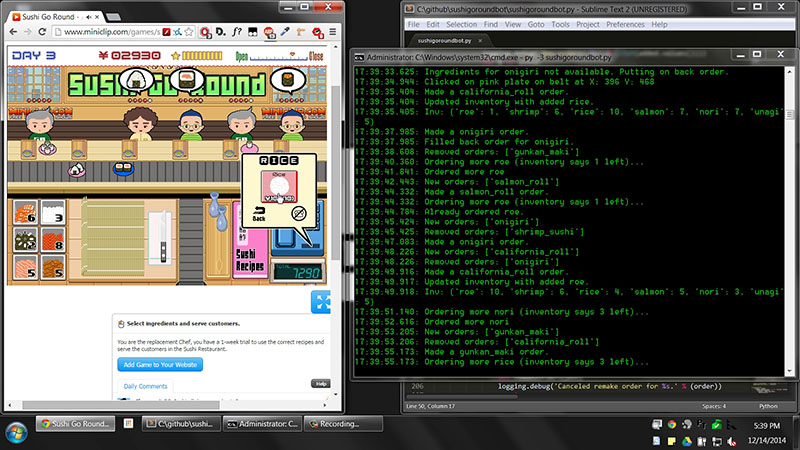 Sushi Go Round is a resource management game similar to "Dine N Dash". You fill customer orders for different types of sushi and place them on the conveyor belt. Incoming customers may take other customer's sushi orders, forcing you to remake orders. Customers who wait too long to get orders end up leaving, costing you reputation. Angry customers can be placated with saki, but this bot does not make use of that feature. Ingredients will have to be ordered as they get low.
I've refined this bot so that it can successfully play all the way through the game, ending up with a score of about 38,000. The top scores are a little over 100,000, so there is still room for improvement with this bot. You can watch a YouTube video of the bot playing.
The source code and images for the bot can be downloaded here or viewed on GitHub.