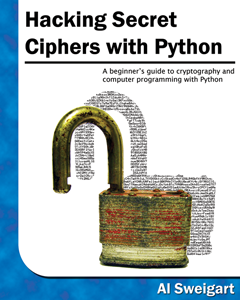 Encrypt messages and hack ciphers!
Hacking Secret Ciphers with Python teaches complete beginners how to program in the Python programming language. The book features the source code to several ciphers and hacking programs for these ciphers. The programs include the Caesar cipher, transposition cipher, simple substitution cipher, multiplicative & affine ciphers, Vigenere cipher, and hacking programs for each of these ciphers. The final chapters cover the modern RSA cipher and public key cryptography.
100% of the proceeds from this book are donated to the Electronic Frontier Foundation, the Creative Commons, and the Tor Project.

PDF and All Source Code
| | |
| --- | --- |
| | If you want to test your cipher hacking skills, check out the Mystery Twister C3 Contest. The contest has several challenges for you to attempt and a forum where contestants can discuss their approaches. |
Crypto 101 is a free book on an introduction to modern cryptography. If you have finished Hacking Secret Ciphers and want to continue learning about crypto, I highly recommend this book.
Programming & Cryptography Books I Recommend (if you don't mind paying)
These books take a more conventional approach to covering programming concepts. They don't focus on having complete source code for small projects or games, but they do explain programming concepts fairly well.
Contact
You can email the author at [email protected]. Feel free to send your programming questions or comments.